Just finished changing my transmission filter and fluid for the second time since i got my riv. I try to do it every 30k, and my fluid was loosing its red color. It's a simple job, but i figured there still should be a write-up on here.
I used 6.5qts of the new dexron VI fluid and a napa filter which comes with a new oem style gasket (beware of the cork ones). expect to pay around $80 in oil and a filter to do this yourself. i DO NOT recommend having your transmission flushed. Simply changing the filter and half the fluid will be safer and still keep your trans happy and alive.
A big thanks to TType_Riviera for making this write-up!
Servicing filter and fluid in your trans is pretty simple, a little time
consuming considering there's no drain plug in the pan, however there is a drain
plug above the pan, up near the passenger side cv joint, but that wont get all
your fluid out.
If your trans seems sluggish, shifts funny, fluid smells burnt, and is a dingy
brown color, chances are a filter and fluid change is in order. Your torque
converter probably holds a good 5 quarts by itself, which you cant drain. If your
fluid is really burnt, I would recommend doing it again soon. By doing this service,
your increasing the life of your trans a great deal.
Tools and Misc things needed.
Jack and jack stands
drain pan
rags
few cans of brake clean
1/4" drive ratchet, extension and a 10MM socket
7 quarts of new trans fluid (Dexcron/Mercon ONLY)
new filter, gasket and filter seal (comes as a kit)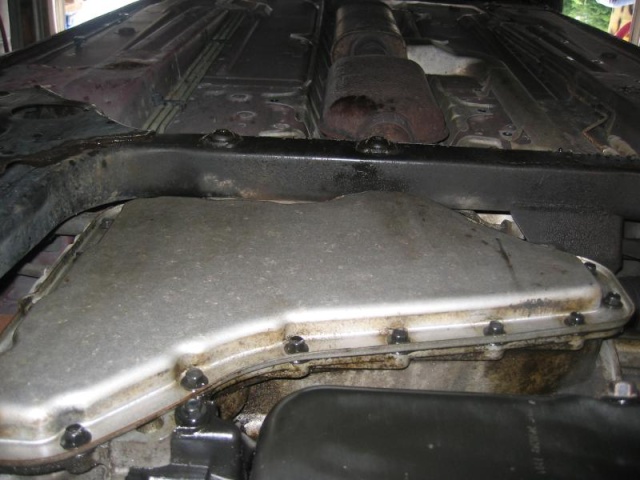 Start by putting the car on your jack stands. Slide the drain pan under the
corner of the pan shown below. Start removing the bolts on that corner, once you
have about 5 of them out, only loosen the next few, and you should start seeing
fluid drip out of that corner, loosen a few more untill there's a pretty good
stream, and let it completely drain.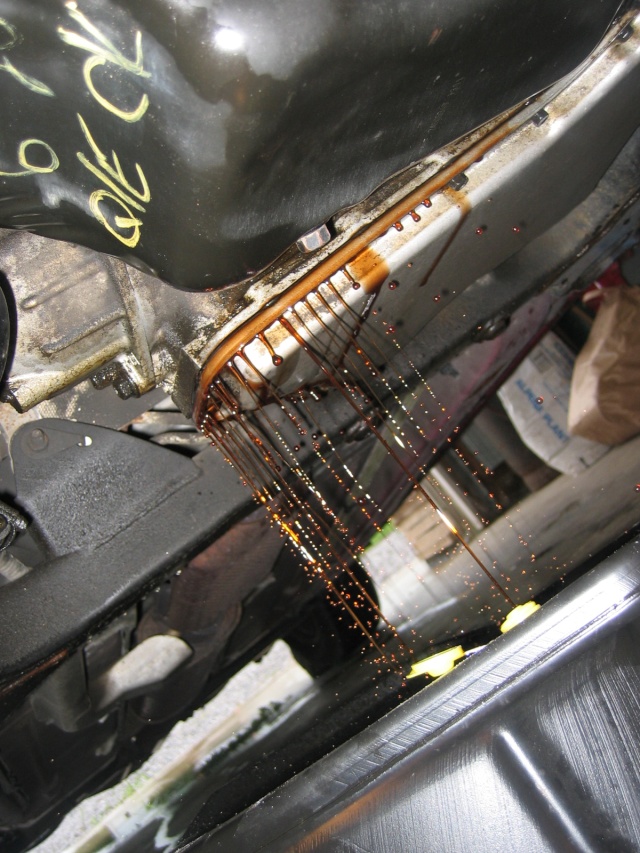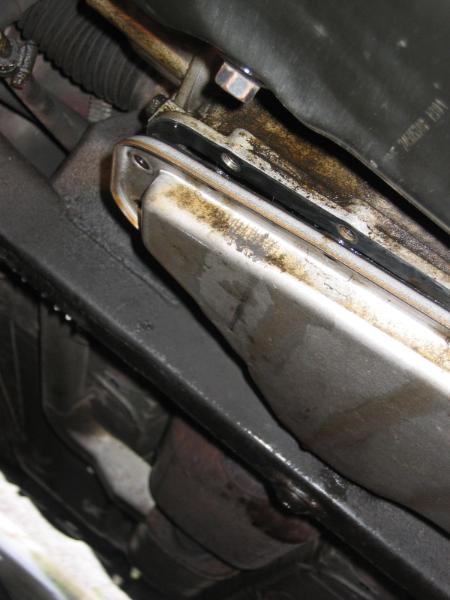 Once it is drained, start removing more bolts, when you come to the last 6 or 7
support the pan tight against the trans while removing the rest of the bolts, as
there still some fluid in the pan, once removed carefully lower the pan down an
dump the rest of the fluid in the pan.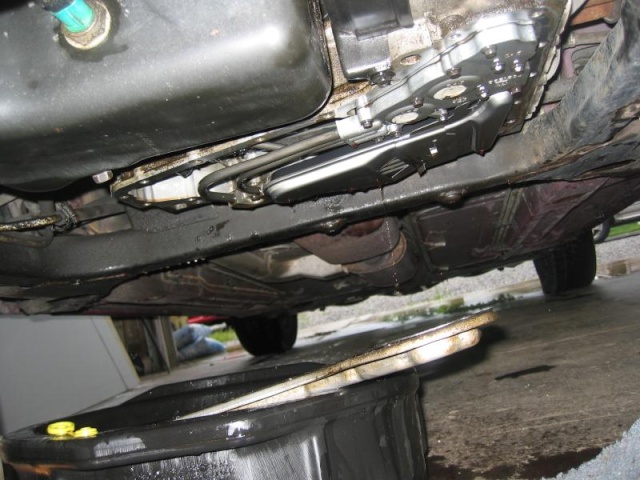 Next remove the old filter, and filter seal. The filter is easily removed, just
simply pull an turn it a little an is should slide right out. Now the filter
seal is probably going to be a slight pain, and you'll probably ruin it before you
get it out. Use a flat head screw driver, to cave the side of it in, then just
simply grab it with some pliers an work it out, doing your best not to score the
inside surface.
Next clean your pan really good with brake clean, cleaning all dirt off the
gasket surface, and the magnet in the far corner, then let dry. Then take the new
filter seal from the filter kit, and push it into the port, you will probably need
to tap it very softly with something to push it in completely. I used a socket
the same diameter as the seal, and it went right it. Next slide in the new
filter, it may take some force but it will go, tap it until it stops, it should
fit in the area nicely.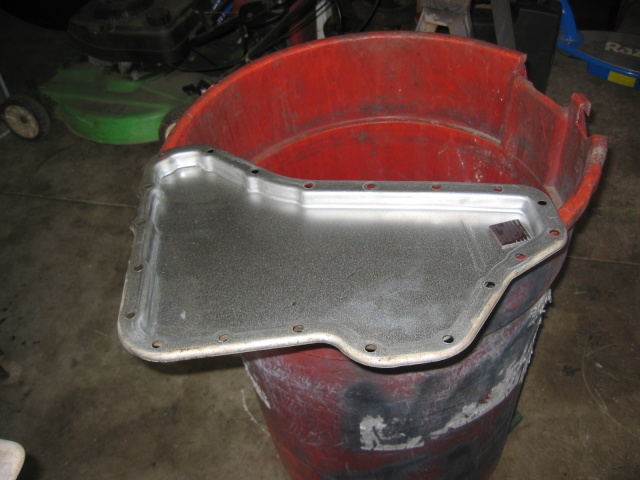 Next take the pan and the new gasket and fit it to the shape of the pan. Take 4
pan bolts and push them through the holes and through the gasket, they should fit
very tightly in the gasket, thus keeping the gasket aligned for an easy
reinstallation. Be sure to spread the bolts evenly, as shown in the picture. The
filter kit will come with either a rubber or cork gasket. They say the rubber
gaskets can be reused, and are usually installed from the factory. I was a little
weary about reusing the gasket, and just used the new one. You don't need any kind
of sealer on this application, and NEVER use sealer on a cork gasket, it WILL
leak.
Now clean the gasket surface of the trans with some brake clean or paint thinner
will work, by wetting a rag. Then lift the pan and gasket in to place an start
each of the 4 bolts, and lightly snug them, and then install the rest of the
bolts. Once all of them are snug start in the center of the pan an moderately
tighten the bolts, crossing back and forth working your way to each end. After
that go back through an give each bolt a light tweak assuring there all
tightened fairly even.
Drop the car back down on the wheels, pull the trans dip stick, set it aside,
grab
a small funnel, and proceed to dump in at least 5 quarts for now. after all 5
quarts are in, start the car and let the trans get warm, then run it through each
gear 3-5 times. This will pump the fluid around where it needs to be so you can
get an accurate reading on the dip stick. It took about 7 quarts to completely
fill mine, but id suggest adding fluid a little at a time so you don't over fill
it just in case yours doesn't need 7. Once the right oil level is reached, check
for leaks, an easily drive around the block, come back an give it one more
check, you may have to add a touch. Check for leaks again. After a few hundred
miles I would check the pan bolts again most likely they will need a small turn.
This should fix your sluggishness an problems with shifting, if not you have
bigger problems, and should see a professional trans shop.
If done correctly, you should have the end results of a smooth running, smooth
shifting, and cooler running trans and a better responding trans as well. Good
Luck to whom ever gives this a go there self, Remember All of us here on the
board are always here to help!!!!